In reductions in force involving more than a few employees, in addition to the personalized consulting services that we provide, we also offer workshops, seminars, and presentations that cover many aspects of the reduction and job search process. Topics that we often cover include:
How to create an effective brand that will be desirable to future employers
What makes a resume effective
Key elements of the job interview process
How to build and use a personal network for your job search
The emotional aspects of job loss – acceptance of the emotions that arise
How to maintain a positive attitude during the job search process
How to use (and not use) the Internet in the job search process
In addition to these topics, we can also develop additional presentations upon request.
What is involved in Outplacement Workshops, Seminars, and Presentations?
Our outplacement workshops, seminars, and presentations are not provided solely through a lecture format. While some aspects consist of presentations, our services are meant to be interactive and to give participants ideas about how they can use the information being provided in their career transition. Our workshops consist of interaction between participants and our professionals. This interaction provides participants with valuable skills that they can use in interviews and other aspects of the job search process.
RESUMÉ DNA
By John Singer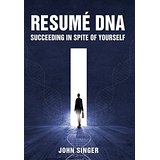 For every position that interests you there are dozens, possibly hundreds of applicants. You need to make yourself stand out – but how?
Resume DNA: Succeeding In Spite Of Yourself is a practical blueprint for navigating your way through a complicated, competitive job market.
You'll learn to:
· Identify the qualities that distinguish you from your competition
· Write cover letters and resumes that demonstrate why you're a good fit
· Deliver an opening statement that enables you to control the interview
· Work your network and pilot a proactive search in the "unpublished" job market
Resume DNA: Succeeding in Spite of Yourself reminds you of what you've already accomplished … and teaches you how to leverage those accomplishments as you make your way up the career ladder.